Osan Air Base, South Korea
Location:
Located 4.7 miles southwest of Osan-Ni, 40 miles south of Seoul; Republic of Korea. (Part of base covers "Hill 180," site of a bloody USA bayonet charge during the Korean conflict)
Origin of current name:
Named after a town in the Republic of Korea.
Date current name was assigned to base:
September 18, 1956
Previous Names:
Osan-Ni (K-55) AB, Nov 1951.
Date Established:
November 1, 1951
Date Occupied:
December 1, 1952
Construction Began:
August 1, 1952
Base Units:
841st Engr Avn Bn, 24 Jun 1952; 18th AB Gp, 27 Dec 1952; 6171st AB Wg, 1 Nov 1954; 58th AB Gp, 18 Mar 1955; 6314th AB Gp, 8 Nov 1957 (rdsgd 6314th AB Wg, 25 Mar 1959); 6316th AB Gp, 20 Jul 1961; 6314th Spt Wg, 1 Jul 1964; 51st AB Wg, 1 Nov 1971; 51st Cmbt Spt Gp, 30 Sep 1974-.
Changes in Capability:
Osan AB is the only USAF facility within the Republic of Korea built by the United States during the Korean conflict; 9,000-ft runway completed Nov 1952; Republic of Korea relocated four villages, allowing the USAF to acquire 1,250.5 acres for expansion of the Osan base 1952; hosted 18th Ftr-Bmbr Wg and several units flying F-51s and F-86s during Korean conflict; a fifth Korean village relocated to enlarge the Osan (K-55) compound area for the arrival of Fifth AF Headquarters in 1953; Fifth AF maintained an advanced headquarters at Osan AB until activation of the 314th Air Div in 1954; Osan AB retained on standby status and hosted only temporary duty or transient units involved in tactical operations for PACAF, 1954-1957, during which time some of the facilities and structures at Osan fell into disrepair; concrete base surfaces restored in 1957 and base renovated as regular peacetime permanent installation in 1958; F-100s hosted at Osan late 1950s; replaced by F-105s in 1962-1963; new control tower for base completed 5 Jan 1966, and elaborate fence, alarm and security system completed to thwart thievery in Feb 1966; spectrometric oil analysis lab completed 1967; USS Pueblo seizure by North Korea prompted an increase in forces at Osan, including arrival of 6,500,000 lbs of cargo and 1,000 additional personnel, JanóMar 1968; F-106s joined F-105s to reinforce USAF and ROKAF F-5 complements, 1968-1969; new base operations building completed 15 Jan 1970 and main runway rehabilitated Oct 1971; new and modernized base headquarters complex and additional dormitories completed early 1974; base-wide housing and dormitory construction projects, new and renovated, accomplished 1974-1975; 26 aircraft shelters and revetments for arrival of F-111, F-15, and A-10 aircraft completed 1977-1979; taxiway/runway overhaul project finished 1978; tactical air control center opened 1981. Major Commands to Which Assigned: FEAF, Nov 1951 (rdsgd PACAF, 1 Jul 1957).
Changes in Status:
Active, 27 Dec 1952; standby status, 1954-1956; activated as primary installation, 9 May 1956.
History:
Osan Air Base is one of two major airfields operated by the U.S. Air Force in the Republic of Korea and the only base on the peninsula entirely planned and built by the U.S. Air Force during the Korean War. The base is located 4.7 miles southwest of the town of Osan-Ni, for which the base was named, and about 20 miles south of Seoul, the capital city of the ROK. Prior to the invasion of the ROK by the North Korean communists in 1950, the area consisted of several small farming villages near the hillsides and a large number of rice paddies along the Chin Wi River where the runway now lies.
A large ginko tree, more than 1,200 years old and a national treasure, is situated on a small hill where one of these villages was located, and still stands on the number four hole of the base golf course.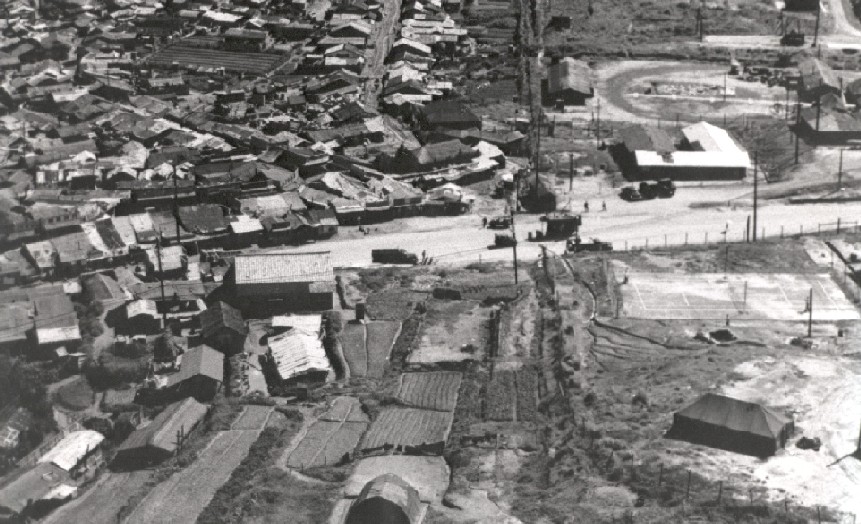 Osan AB also was the site of the "Battle of Bayonet Hill" on Feb. 7, 1951, on and around Hill 180 where the Air Component Command's Hardened Tactical Air Control Center and the headquarters of the 51st Fighter Wing are currently located. The battle took place during the U.S. Eighth Army's Operation Thunderbolt. Capt. Lewis Millet led a bayonet charge of his "Easy" company of soldiers from the 27th Infantry Division up the hill against an unknown number of Chinese Communist Forces ensconced on its crest. "Easy" Company routed the CCF, and Captain Millett received the Congressional Medal of Honor.
Subsequent to the battle, the CCF were driven back north of the 38th parallel, and resulted in the return of Fifth Air Force tactical fighter units to peninsula. Aviation engineers, meanwhile, surveyed locations in the ROK to build an air base capable of supporting jet fighters. They decided upon the area southwest of Osan-Ni. Established in November 1951, the base originally was named Osan-Ni AB (and still referred to by its "K-55" airfield designation from the Korean War). The name "Osan-Ni" was chosen for practical reasons--it was the only village shown on most military maps of the time, and it was easy to pronounce.
Aviation engineers began construction of base support facilities and infrastructure early in 1952. On July 9, 1952, engineers started work to lay the airfield's runway, taxiway and parking ramps. Monsoon-type rains, though, impeded initial efforts to fill the rice paddies and begin airfield construction. The delay forced engineers to work 24 hours a day, seven days a week beginning in August. Three engineer aviation battalions were assigned the task of building Osan - the 839th, 840th, and 841st EABs. They completed laying a 9,000-foot, 8-inch thick concrete runway in 2½ months. With the taxiway also completed, and parking ramps nearing completion, the 18th Fighter-Bomber Wing and one of its F-51 combat squadrons arrived on Dec. 26, 1952. With the wing's other two squadrons arriving shortly thereafter, the wing converted to the F-86F.
In February 1953, the 18th FBW began flying air superiority missions from Osan-Ni AB which continued through the remainder of the Korean War.
With the Armistice Agreement signed on July 27, 1953, the 18th FBW remained at Osan-Ni AB for defensive purposes until November 1954. Meanwhile, plans called for HQ Fifth Air Force (Advance) to move from Seoul National University to Yongsan Garrison in Seoul. This plan was changed, and in January 1954, the headquarters relocated to Osan-Ni AB, and established the base as the major hub of operations for U.S. air power in the ROK.
As the Armistice took hold, the U.S. Air Force redeployed all but one tactical fighter wing from the peninsula, and in November 1954, the 314th Air Division replaced Fifth Air Force's advanced headquarters at Osan-Ni AB. The 58th FBW moved from Taegu AB to Osan-Ni AB in March 1955, and became the only permanently-assigned tactical fighter wing on the peninsula. On Sept. 18, 1956, the base was redesignated Osan AB--its current name. In July 1958, the U.S. Air Force inactivated the 58th FBW. At this time, the Eisenhower Administration promulgated a nuclear deterrence strategy. Osan AB thus became the main base of operations for air-to-ground Matador tactical missiles. Concurrently, Fifth Air Force complemented this strategy by instituting rotational deployments of fighter aircraft units to Osan and Kunsan ABs from its Far East bases and the U.S. to bolster the defense of the Republic of Korea as it steadily trained and equipped the ROK Air Force. Although the Matador missiles were relocated in 1962, fighter deployments continued throughout the 1960s.
Other than a major reconstruction of the runway in 1959, the base still retained its Korean War-vintage facilities and infrastructure. This condition changed modestly beginning in 1968.
The North Korean attack on the USS Pueblo and seizure of its crew on Jan. 23, 1968, precipitated deployments of forces to Osan AB that included the arrival of 6,500,000 pounds of cargo and 1,000 additional personnel from late January to March 1968. The crisis underscored the importance of the installation, and led to infusion of construction funds to enhance security, improve existing facilities, and build new structures to support the significant increase of operations occurring at the base. These included construction of aircraft shelters and a new control tower.
Although the Pueblo crisis subsided with the crew's release in on Dec. 23, 1968, fighter unit deployments occurred on a regular basis. On April 15, 1969, the North Koreans again triggered a period of tension when it shot down a U.S. Navy EC-121 flying in international airspace over the East Sea of the Korean peninsula. Response by the U.S. resulted in another increase of fighter forces on the peninsula, and eventually set the stage for return of permanently-assigned fighter units to the ROK.
Throughout this period, the U.S. Air Force had been deeply committed to the Vietnam conflict. However, as the U.S. withdrew incrementally from South Vietnam and Thailand, Pacific Air Forces repositioned its force structure which led to substantial changes for the U.S. Air Force on the ROK. On March 15, 1971, the 3rd Tactical Fighter Wing was activated at Kunsan AB. At Osan AB, PACAF activated the 51st Air Base Wing to assume host-unit responsibilities at Osan AB on Nov. 1, 1971. Two weeks later, on Nov. 13, 1971, the 3rd TFW's 36th Tactical Fighter Squadron moved to Osan AB.
Total withdrawal of U.S. forces from South Vietnam by 1974 resulted in another important change for Osan AB. On Sept. 30, 1974, the 51st ABW was redesignated as the 51st Composite Wing (Tactical), and assigned the 36th TFS with its F-4D/Es and 19th Tactical Air Support Squadron with its OV-10As.
With Osan AB serving as the nucleus for more than 20 U.S. Air Force activities on the peninsula, it experienced a period of facility and infrastructure changes during the 1970s. Although many of the Korea-War vintage structures remained, new dormitories were built, and a new headquarters complex completed in 1974 for the 314th AD and 51st CW(T) replaced 71 Quonset huts that were destroyed by fire three years earlier. In 1979 and 1980, construction of on-base family housing and additional community-support facilities gave the base a sign of stability. Establishment of the Combined Forces Command in 1978 further set the future of Osan AB. The evolving role of U.S. Air Force's CFC mission in the ROK led to activation of Headquarters Seventh Air Force on Sept. 8, 1986. It replaced the 314th AD as the U.S. Air Force component command.
Construction on Osan AB during the 1980s was dictated largely by mission changes and enhancements, and the threat from North Korea. Introduction of the F-16 in 1988 led to construction of hardened aircraft shelters, a new on-base munitions storage area, and upgrades to unaccompanied personnel housing.
While the face of Osan AB slowly changed in replacing its 40-year-old Korean War-vintage structures, the base experienced a lengthy period with little or no military construction program projects. However, other funding sources allowed base officials to add community-type facilities. Arrival of the 25th Fighter Squadron and its A/OA-10s in October 1993 and a Patriot missile battery in December 1994 also necessitated some new construction. Other than these events, base officials primarily concentrated on improvements in facility protection due to the threat from North Korea's reliance on medium-range SCUD missiles. Annual runway repairs furthermore only attested to the aging of Osan AB as the base witnessed only modest changes in its structural appearance during the 1990s.
It was not until 1998 that HQ PACAF renewed emphasis on improving the base's support structure. Increasing infrastructure failures seriously detracted the 51st Fighter Wing from conducting its deterrence mission. HQ PACAF subsequently provided the base with funds under the "Fix Korea Initiative." More than $200 million was invested in upgrading or replacing the water, sewage and electrical distribution systems over the following six years. Additionally, mid- and long-range plans for the base foresaw a dramatic facelift of Osan AB that included new on-base family housing, new community-support facilities, and replacement of many industrial structures that supported the 51st FW mission.
As the ROK's military grew and matured into a formidable force by the late 1990s, political and military leaders from both countries reexamined the role of U.S. forces based on the peninsula. A major change in U.S. strategic policy coinciding with the "9-11" terrorist attack on the Twin Towers in New York required a "transformation" of global U.S. military commitments and basing. The military had to adapt from a fixed, in-garrison-type force to a mobile, responsive force. For its part, U.S. Forces in Korea studied how technological advances in weaponry could mitigate a reduction in personnel while the ROK military forces carried out an increasing role to protect its sovereignty. The result of this effort led to the landmark agreement known as the Land Partnership Plan in 2002 and the Security Policy Initiative in 2003 between the U.S. and the ROK governments. These decisions reflected a realignment in the roles and missions of USFK that forecast a significant reshaping and growth at Osan AB through 2011.