Dyess Air Force Base, Texas
Location:
Located 3 miles westsouthwest of Abilene, TX, about 1550 miles westsouthwest of Fort Woth, TX.
Origin of current name:
Named in honor of Lt Col William Edwin Dyess (1916-1943). Captured by the Japanese on Bataan in April 1942, Dyess escaped in April 1943 and fought with guerilla forces on Mindanao until evacuated by submarine in July 1943. During retraining in the United States, his P-38 caught fire in flight on December 23rd 1943 near Burbank, CA. He refused to bail out over a populated area and died in the crash of his P-38 in a vacant lot.
Date current name was assigned to base:
December 1, 1956
Previous Names:
Abilene Army Air Base, December 18th 1942 (prior to this date popularly known as Tye Field and Tye Army Air Base); Abilene Army Airfield, April 8th 1943-January 13th 1947. Abilene Air Force Base, October 1st 1953.
Date Established:
December 18, 1942
Date Occupied:
December 18, 1942
Construction Began:
December 1, 1942
Changes in Capability:
Tow 5,000-foot runways, taxiways, and apron completed 1943; primary mission, fighter pilot training 1943-1945; after base reopened, runway and taxiway system rehabilitated, aviation and jet fuel storage, airman dormitory, and primary utility system completed for SAC bombardment and air refueling missions, early 1955; permanent hospital completed September 1956; 1,000 unit Capehart housing complex completed 1958; construction of 12 Atlas F missile sites completed 1959-1960 (addigned and activated)-1968 (disposed); runways, taxiways, and other concrete areas adapted for conversion from B-47s to B-52s December 1963; B-52s/KC-135s replaced B-47s/KC-97s 1962-1965; C-130s arrived 1963; new (Tri-Service Landing Mat Assault) runway completed December 1st 1966; arrival of additional B-52s prompted upgrading of hangars and concrete areas, 1968; short field runway completed 1975.
Changes in Status:
Inactive, January 31st 1946; subbase of Ft Worth AAField, TX (later Carswell AFB), April 1st 1946-January 13th 1947; placed on inactive status, October 1st 1953; activated September 1st 1955.
History: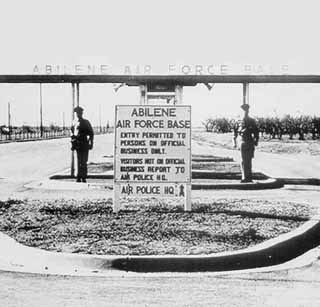 World War II saw the blossoming of "tent camps" throughout the United States and Abilene was no exception. Camp Barkeley, a few miles south of Abilene, became an Army infantry training camp for thousands of recruits. Army inductees were trained for various duties while there.
Army Air Corps cadets learned to fly trainers and P-47 Thunderbolt fighters while stationed at Tye Army Air Field, a Camp Barkeley adjunct. When both installations were closed at the end of WW II, the deed to Tye Army Air Field was sold to Abilene for $1. Fifteen hundred acres of the former Army Air Field were used by the Texas National Guard as a training facility.
Following the outbreak of the Korean crisis, Abilenians called for a military installation. Armed with 1,500 acres and determination, civic leaders besieged Washington, DC and Pentagon officials with their request for a military installation. Proving beyond a shadow of a doubt they meant business, Abilenians raised $893,000 to purchase an additional 3,500 acres to provide a home for the military base they hoped would be in Abilene.
Several prominent men were instrumental in convincing authorities of the suitability of Abilene. Oliver Howard, the late W.P. Wright Sr. and others worked in the city to promote interest in the military facility. Together with Senator Lyndon B. Johnson and Congressman Omar Burleson, civil leaders persuaded military and civilian officials to put a military base in Abilene.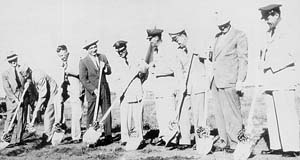 Ground breaking.
After letters and visits had been exchanged, the Department of Defense announced in July 1952 Congress had approved the $32,273,000 needed in appropriations for constructing a base in Abilene.
The local community was interested in providing for the Air Force an exemplary relationship between the community and an Air Force base. After initial ground-breaking ceremonies on Sept. 24, 1953, construction of the base progressed rapidly.
The red brick ranch-style architecture boasts a Texas influence throughout the base. A unique feature of the base is all buildings are permanent structures.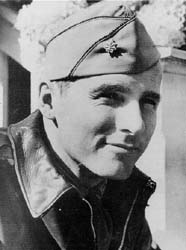 LtCol William Edwin Dyess
Known as Abilene Air Force Base, the Strategic Air Command base was dedicated by the city fathers at the end of Abilene's Diamond Jubilee April 15, 1956. On Dec. 6 that same year, the base was renamed Dyess AFB in honor of Lt. Col. William Edwin Dyess.
On Feb. 8, 1961, Dyess Air Force Base became home to the Tactical Air Command's 64th Troop Carrier Wing (Medium) flying the C-130 Hercules Abilene and the entire Big Country community celebrated President Reagan's announcement on Dec. 21, 1983, that Dyess AFB would receive the Air Force's first operational B-1B's. The arrival ceremony June 29,1985, for the Star of Abilene included more than 50,000 people, most from our host neighbor Abilene, Texas.
History of the Atlas Missile at Dyess can be found here.