Test Area 1-100 Description and Photos - Air Force Research Laboratory, Edwards Air Force Base
The facilities in Test Area 1 -100 were constructed by the Air Force expressly for the purpose of conducting tethered launches of the Minuteman missile. Air Force engineers at the AFRL developed the technology for achieving a successful hot-firing and designed the first silo facility in the United States that could perform this function. The ability to hot-fire the Minuteman missile was one of its most influential features because it reduced the launch time to 30 minutes or less, which put the United States on par with Soviet launch capabilities.
Full-scale Minuteman testing was initiated by Boeing in May 1959, and the first launch took place in September of the same year (U.S. Air Force 1960). In the 1970s, Test Area 1-100 was also the site of the first tethered launch of the pre-Peacekeeper missile and played an important role in the development of that system (CA-236-5). Test Area 1-100 played an exceptionally important role in the development of the Minuteman missile program and in the RDT&E of performing hot-firings from underground missile silos. RDT&E of other Minuteman systems, such as propellants, motors, and vehicle components, were being conducted throughout the AFRL at modified testing facilities.
Test Area 1-100 is located at the terminus of the southern branch of Mercury Boulevard (CA-236-12). The vegetation in this area consists largely of creosote bush and sagebrush. Topographically, the test area site is located in a relatively fiat valley, directly east of Leuhman Ridge, north of Haystack Butte, and northwest of Kramer Hills. It is a coffin-shaped, flat area that covers approximately 75 acres.
The test area consists of three buildings and two subterranean silos. Bldg. 8950, the missile fixtures storage facility, is located at the northwestern end of the area's access road. Bldg. 8953 and Bldg. 8955 (the control center) are located near the intersection with Mercury Boulevard (CA-236-B-2). Bldgs. 8959 and 8960 are the two missile silos, located at the southeastern end of the area's access road (CA-236-A-2).
Test Area 1-100 was constructed in 1959 to support the Minuteman ICBM program. It consists of a bum pit, two silos (both with tethered test configurations), and associated support facilities. After preliminary development of test procedures, technicians developed a silo flame deflector and a one-third-scale silo launcher in 1958 and 1959 to accommodate tethered launch tests.
Bldg. 8955 is a concrete block structure measuring 40 by 50 feet and 12 feet high (CA-236-B-7). The flat, builtup roof has a steel coping. The interior is dominated by the instrument room, with smaller spaces devoted to a mechanical room, a toilet, storage space, and an office (CA-236-B-4, CA-236-B-5). Fenestration includes double steel doors on the southwest facade, a single door on the northwest facade, and a single door on the northeast facade that leads to an enclosed passageway. The concrete passageway contains a two-flight staircase that leads down to a concrete subterranean firing control room 48 feet below ground (CA-236-B-6). Above ground, the firing control room is protected by a concrete slab (CA-236-B-3). East of the slab is a 3-foot-diameter vertical corrugated metal pipe with a steel ladder that serves as an escape route from the firing control room. The structure and associated structures appear to be in good condition.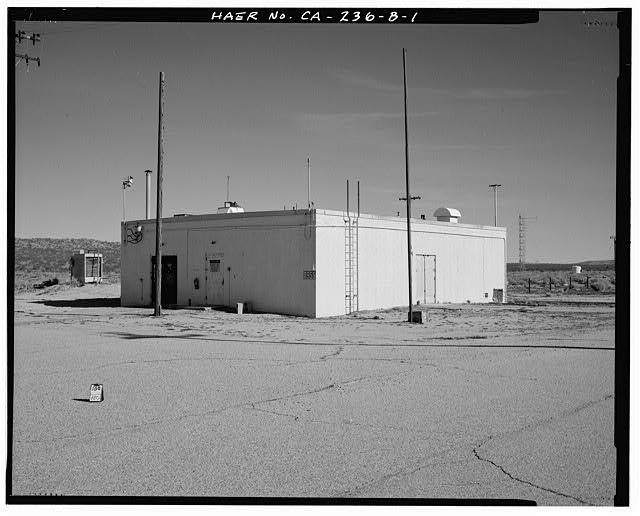 Bldg 8955 NORTHWEST SIDE AND SOUTHWEST FRONT. Looking east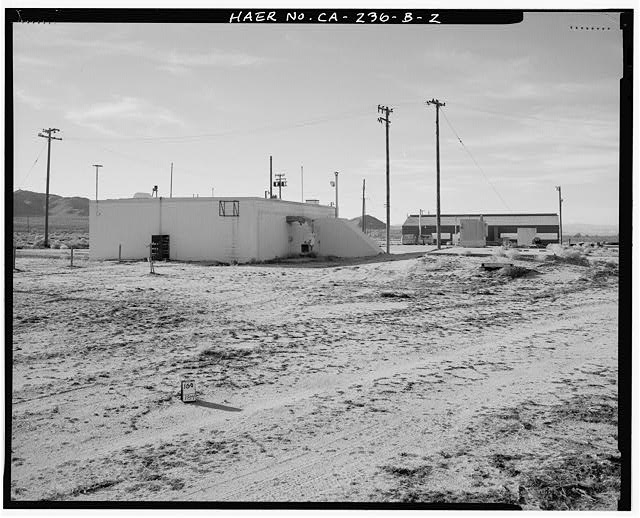 Bldg 8955 SOUTHEAST SIDE AND NORTHEAST REAR. SHOP BUILDING IN DISTANCE. NOTE CONCRETE PROTECTION SLAB FOR UNDERGROUND CONTROL ROOM AND ESCAPE HATCH ON GROUND AT RIGHT MIDDLE DISTANCE.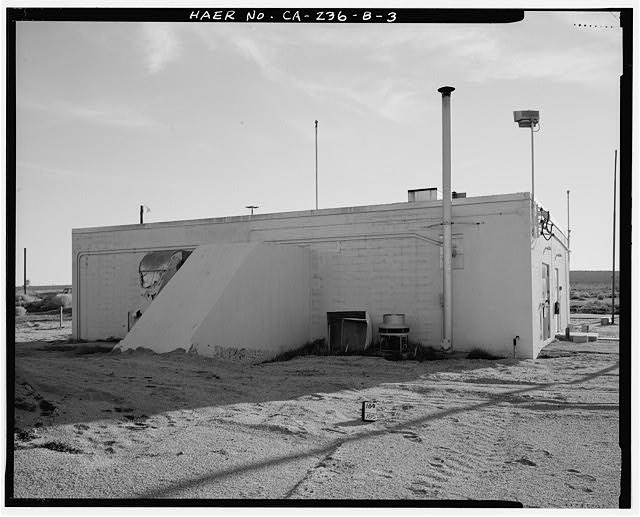 Bldg 8955 NORTHEAST REAR, SHOWING CONCRETE ENCASEMENT FOR STAIRWAY LEADING FROM INSTRUMENT ROOM TO UNDERGROUND FIRING CONTROL ROOM.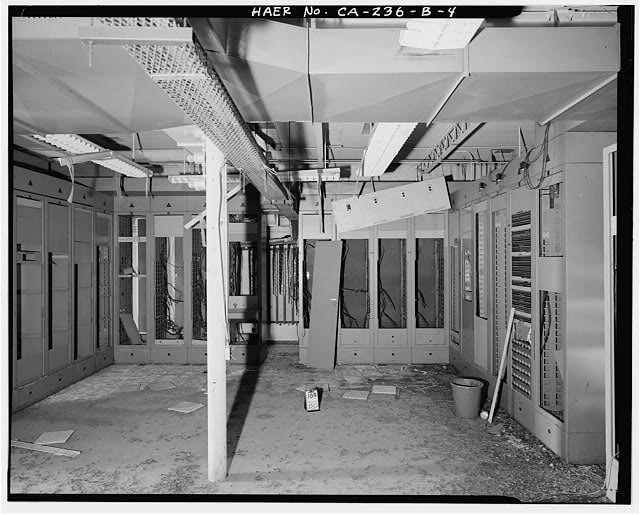 Bldg 8955 INSTRUMENT ROOM,INTERIOR, MAIN SPACE. Looking northeast.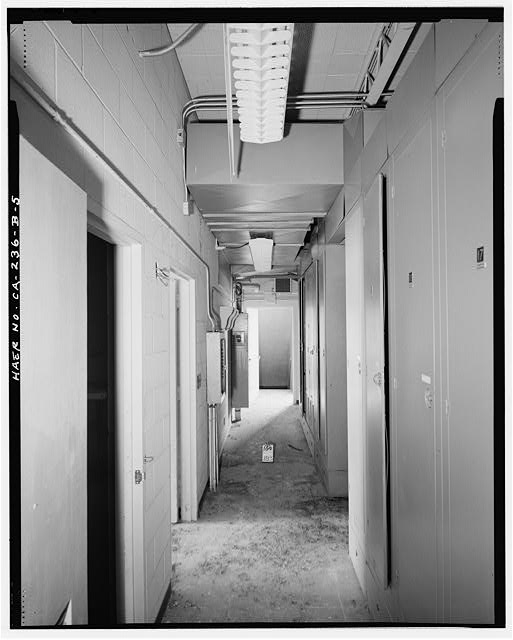 Bldg 8955 INSTRUMENT ROOM INTERIOR, SHOWING BACKS OF CONSOLE LOCKERS. Looking northeast to firing control room passageway.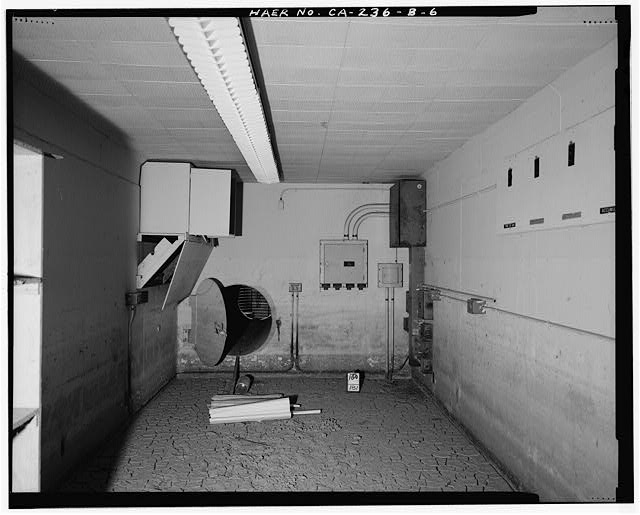 Bldg 8955 UNDERGROUND FIRING CONTROL ROOM, INTERIOR. Looking southeast to escape tunnel.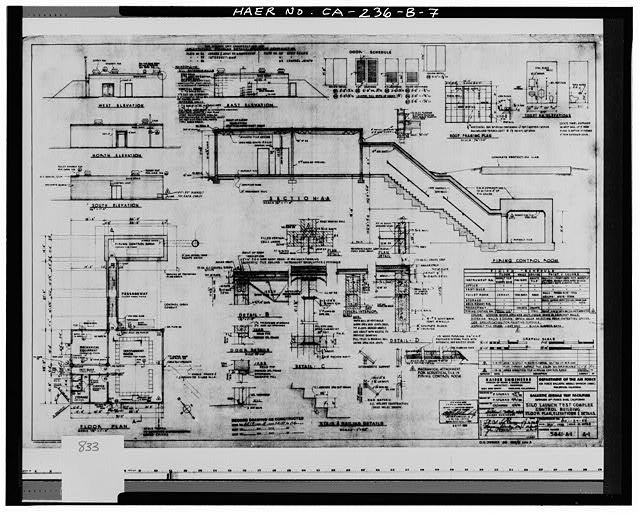 Bldg 8955 CONTROL BUILDING; FLOOR PLAN, ELEVATIONS AND DETAILS.
Bldg. 8959 is a subterranean missile silo with a circular driveway for access and loading (CA-236-A-3); a 13- by 13-foot concrete block equipment room with acorrugated metal roof sits on the outside edge of the drive (CA-236-A-4, CA-236-A-5). The silo has a radius of 13 feet and a depth of 144 feet (CA-236-A-6, CA-235-A-7). It has a steel liner on the outside face and an 8-inch continuous concrete insert on the interior face. Interior features include an elevator, a platform, and a steel cage with ladder located next to each other. At the center of the silo is an adjustable platform with a steel pipe railing, reminiscent of a crow's nest (CA-236-A-1). Round sockets are located at 30-degree intervals around the circumference of the top of the silo for installing removable handrails. Two parallel steel rails, each 120 feet long, abut the silo and support the "hatch cover", a square metal box that could be positioned above the silo. Because this hatch cover did not provide a water-tight seal over the opening in the silo, a sump pump was located in the bottom 3 feet of the silo pit to remove rainwater.
Although the silos have been deactivated and, according to international treaty, filled with soil, the structural, associational, locational, and contextual integrity remain intact. Bldg. 8959 has been filled with dirt but otherwise should be in fair condition.
Bldg. 8960 is identical in design Bldg. 8959. Unlike Bldg. 8959, however, Bldg. 8960 has not been filled with dirt. It shows signs of habitation by animals, perhaps birds (branches and other materials gathered on the center crow's nest structure). Overall, the silo appears to be in fair condition.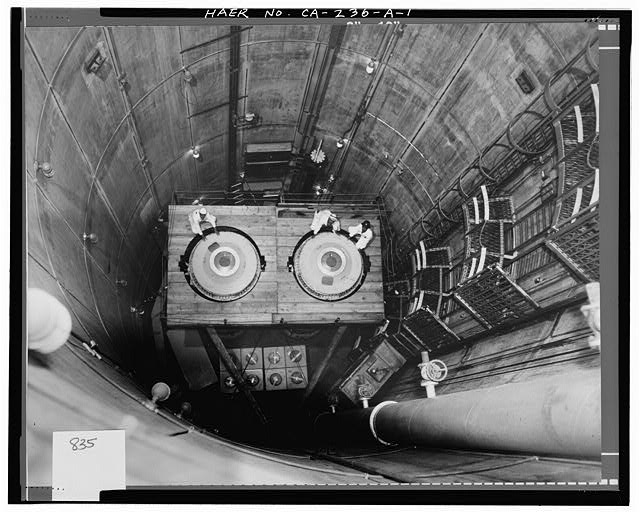 MINUTEMAN SILO INTERIOR (MARCH 1961). Looking down a silo.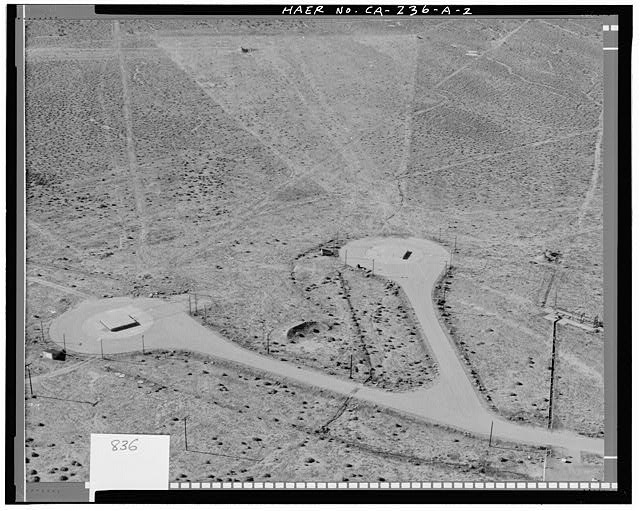 AERIAL VIEW OF MINUTEMAN SILOS. Low oblique aerial view of the two launch silos, covered.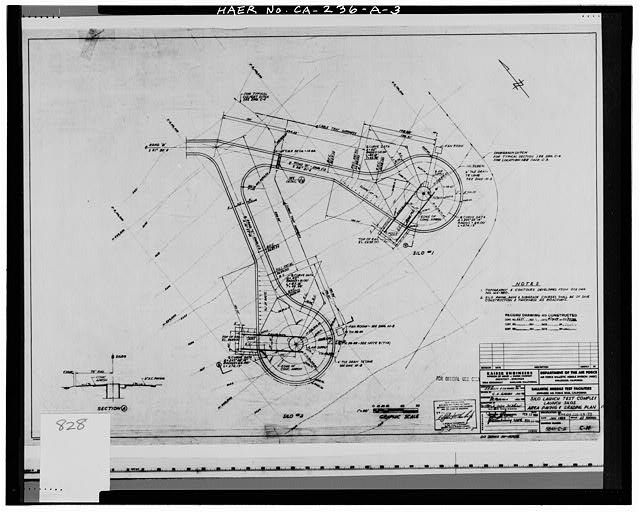 LAUNCH SILOS; AREA PAVING AND GRADING PLAN.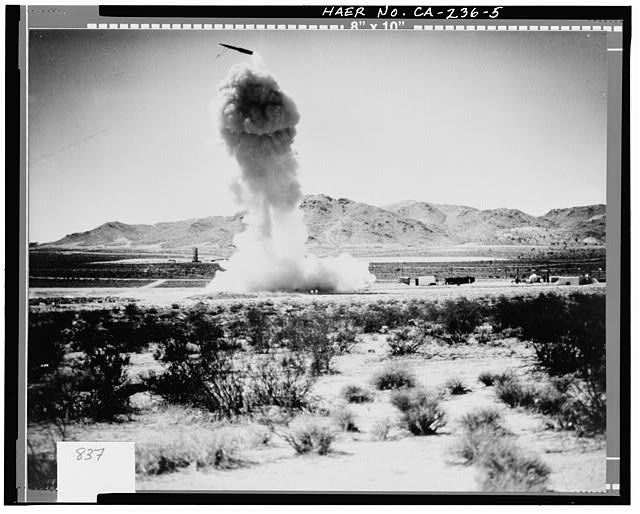 TETHERED MINUTEMAN MISSILE LAUNCH, TEST AREA 1-100.