Test Area 1-115 Description and Photos - Air Force Research Laboratory, Edwards Air Force Base
The first test stands activated at the Leuhman Ridge site were located in Test Area 1-115 (CA-236-K-7, CA-236-K-8). Test Stand 1-5, the area control building, and support facilities (fuel tanks and pumps) were activated in October 1952 for Aerojet's rocket-assisted takeoff (RATO) system. Test Stand 1-5 was reconfigured in 1953 to accommodate Thor program (U.S. Air Force 1957b, 1957c) (CA-236-10).
Test Stand 1 -3 (CA-236-F-2) was activated in March 1953 with the first firing of the Navaho engine. A second test position was added to Test Stand 1 -3 in 1954 and used for Atlas testing. Also in 1954, this test stand was used to test Rocketdyne's Thor IRBM propulsion system (U.S. Air Force 1955c, 1955d, 1957b, 1957c, 1960, 1964b). Because of the rapid erosion of the original cement deflector, a flame deflector was installed in 1955.
Test Stand 1-4 was added to the facility in 1955 and activated in August of that year when the first operational Atlas system was pulled from service and tested there. The test stand played an essential role in testing the reliability of the engine on the Atlas missile and was the site of the integration of each Atlas component as it became available for static testing. During the fourth building campaign. Test Stand 1-3 was reconfigured to conduct reliability evaluation tests on the Titan missile.
Test Area 1-115 was the first testing facility constructed at the AFRL and was exceptionally important in the advancement of both Air Force and contractor testing and evaluation of four nationally significant missile programs and generations of intermediate rocket programs (CA-236-8). Early tests of the RATO system at Test Area 1-115 reflect the AFRL's early association with the Air Force Flight Test Center, whereas later tests of the Atlas, Thor, Titan, and Bomarc programs illustrate the AFRL's exceptionally important role in the advancement of the U.S. Cold War race for technological superiority.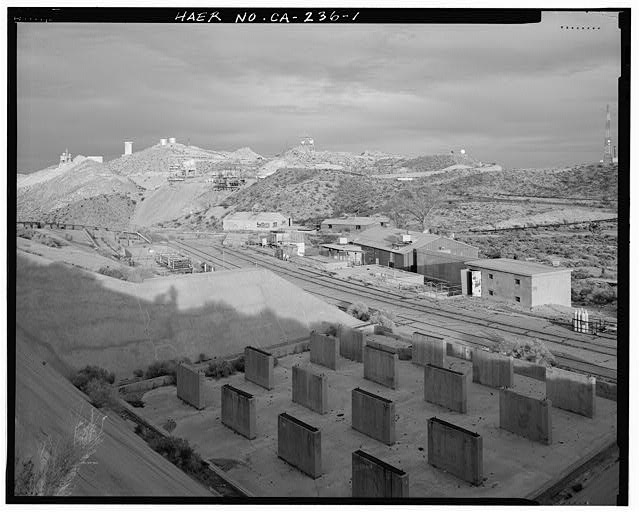 TEST AREA 1-115, SOUTH PART OF SUPPORT COMPLEX, LOOKING TO EAST FROM ABOVE BUILDING 8655, THE FUEL STORAGE TANK FARM, IN FOREGROUND SHADOW. AT THE RIGHT IS BUILDING 8660, ELECTRICAL SUBSTATION; TO ITS LEFT IS BUILDING 8663, THE HELIUM COMPRESSION PLANT. THE LIGHT TONED STRUCTURE IN THE MIDDLE DISTANCE, CENTER, IS THE MACHINE SHOP FOR TEST STAND 1-3. IN THE FAR DISTANCE IS TEST STAND 1-A, WITH THE WHITE SPHERICAL TANKS, AND TEST STAND 2-A TO ITS RIGHT. ALONG THE HORIZON FROM FAR LEFT ARE TEST STAND 1-D, TEST STAND 1-C, WATER TANKS ABOVE TEST AREA 1-125, AND TEST STAND 1-B IN TEST AREA 1-120.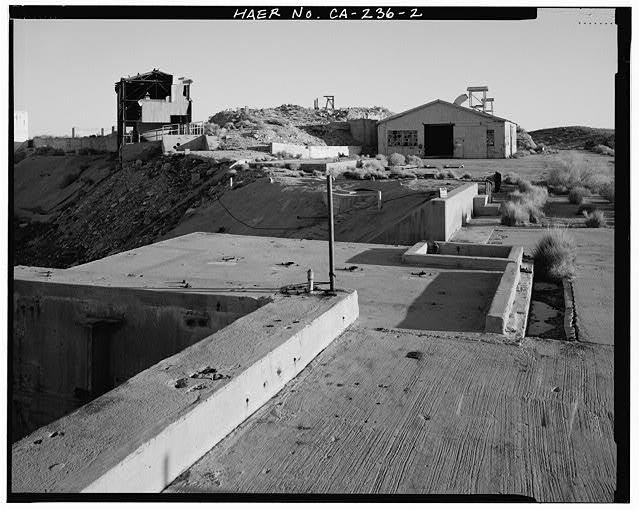 TEST AREA 1-115, A VIEW TO THE SOUTHEAST FROM THE DECK OF TEST STAND 1-5. AT RIGHT IS BUILDING 8642, MACHINE SHOP FOR TEST STAND 1-5. AT LEFT IS BUILDING 8649, AND PART OF BUILDING 8647, TEST STAND 1-4, IS VISIBLE TO LEFT OF BLDG. 8649.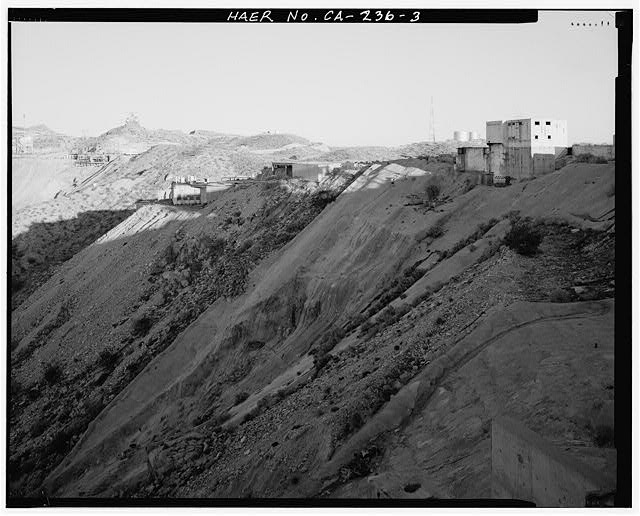 3. TEST AREA 1-115, OVERVIEW. AT RIGHT IS BUILDING 8647, TEST STAND 1-4. AT LEFT CENTER, IN THE MIDDLE DISTANCE, IS BUILDING 8668, INSTRUMENTATION AND CONTROL BUILDING FOR TEST AREA 1-115. Looking east from the deck of Test Stand 1-5.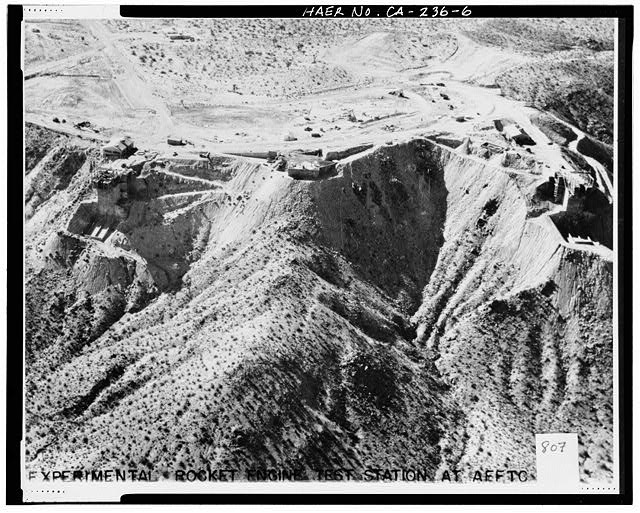 'EXPERIMENTAL ROCKET ENGINE TEST STATION AT AFFTC.' A low oblique aerial view of Test Area 1-115, looking south, showing Test Stand 1-3 at left, Instrumentation and Control building 8668 at center, and Test Stand 15 at right. The test area is under construction; no evidence of railroad line in photo.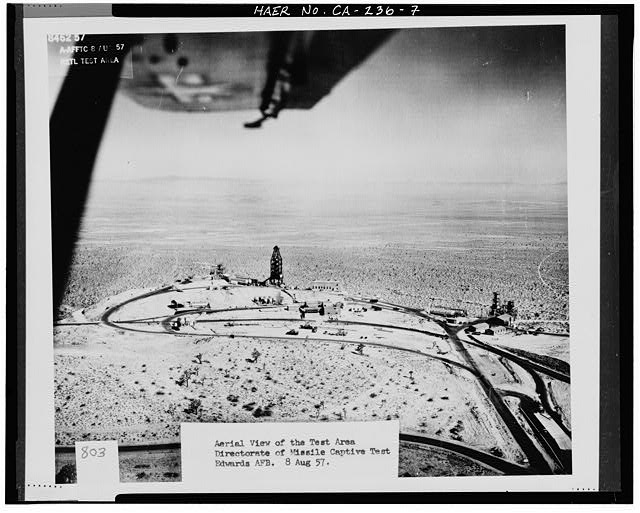 'AERIAL VIEW OF THE TEST AREA, DIRECTORATE OF MISSILE CAPTIVE TEST, EDWARDS AFB. 8 AUG 57.' In upper left corner, photo no. '8462 57' cropped out: 'A-AFFTC 8 AUG 57, RETL TEST AREA' This photo is a high oblique view, showing the wing of the photo plane and Test Area 1-115.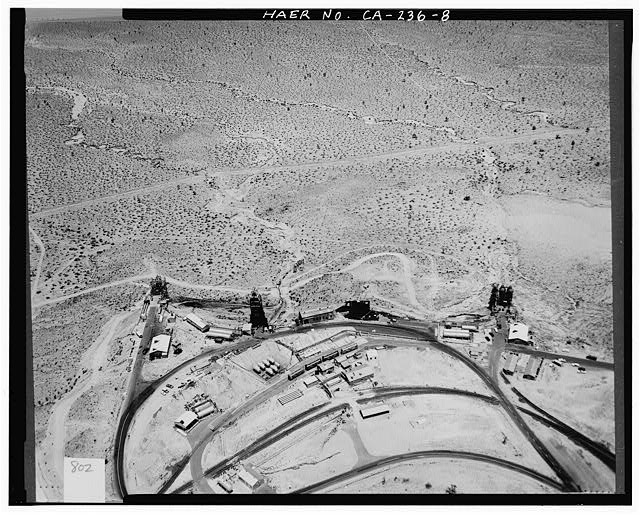 LOW OBLIQUE AERIAL VIEW OF TEST AREA 1-115, SHOWING TEST STANDS 1-5, 1-4, AND 1-3 (LEFT TO RIGHT).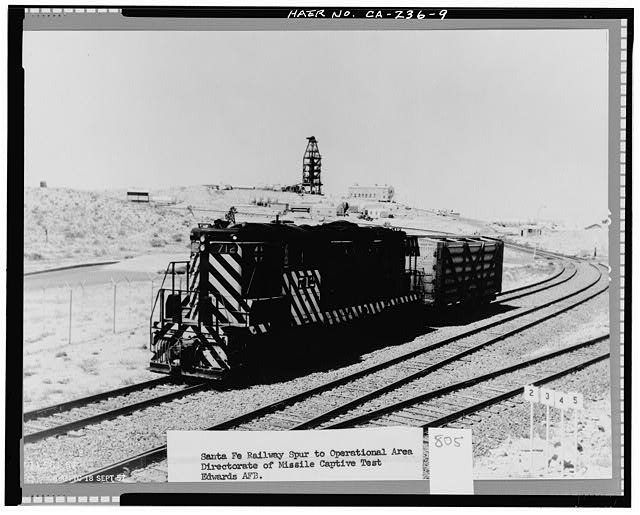 'SANTA FE RAILWAY SPUR TO OPERATIONAL AREA, DIRECTORATE OF MISSILE CAPTIVE TEST, EDWARDS AFB'; Photo no. '11,381 57; G-AFFTC 18 SEPT 57'. Test Area 1-115. Photo shows engine no. 712 pulling one car. The superstructure of Test Stand 1-4 is prominent in the background.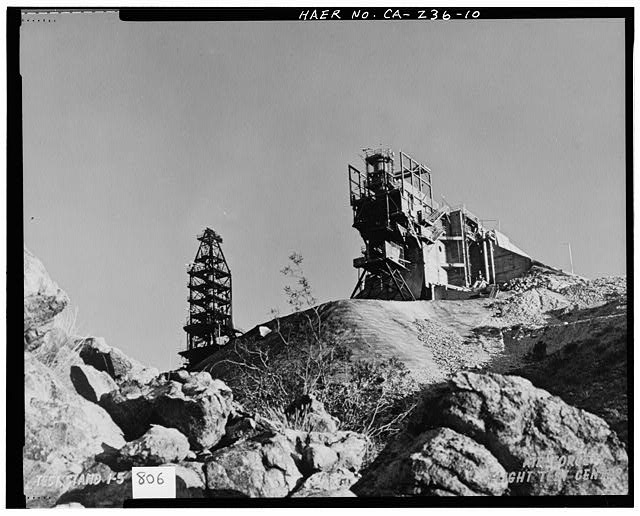 'TEST STAND 1-5, AIR FORCE FLIGHT TEST CENTER.' ca. 1958. Test Area 1-115. Original is a color print, showing Test Stand 1-5 from below, also showing the superstructure of TS1-4 at left.
Test Area 1-115 is located midway along Leuhman Ridge, approximately 1 mile from the main administrative complex. It encompasses a trapezoidal area of approximately 40 acres. The northern boundary line is parallel to and just below the crest of the ridge (CA-236-1). The southern boundary line coincides with Altair Street. The eastem and western boundary lines roughly coincide with Mira Road and the road to Test Area 1-40 (CA-236-7, CA-236-9).
This area has three test stands, six primary buildings, and assorted support buildings and structures (CA-236-2, CA-236-3). It is developed in two tiers, with the test stands and associated buildings on the ridge and the liquid oxygen and fuel structures located approximately 30 feet below the ridgeline, on the southern slope (CA-236-J-1 through CA-236-J-3). From west to east along the ridge, the facilities are Bldg. 8641/Test Stand 1-5; Bldg. 8642, the buildup building for Test Stand 1-5; Bldg. 8649/Test Stand 1-4; Bldg. 8665; Bldg. 8668, the control center for the area; Bldg. 8698/Test Stand 1-3; Bldg. 8680, an electrical substation; and Bldg. 8694, the buildup building for Test Stand 1-3. Test Stands 1-3 and 1-5 were buih from the same plans (CA-236-K-9 through CA-236-K-16). Below the ridge, along Altair Street, sit numerous structures related to liquid propellent storage and transmission. Bldg. 8663 is one of the remaining buildings in this area.
Although the area was deactivated and the superstructures of the test stands removed in the 1980s, the area retains its integrity of association, design, context, and materials and its overall ability to convey its history as a significant rocket testing facility.